Hazelnuts and cocoa is one of those combinations blessed by the gods of taste. For this we must thank the Turin chocolatiers who experimented with it at the beginning of the 19th century. We make this cream with our toasted hazelnuts (fully 50%), sugar and 10% lean cocoa. We recommend using it as a filling for pastries and cakes, or simply spread on slices of biscuit or spoon desserts.
To make this paste we use only one thing: 100% our hazelnuts from Alta Langa. The creaminess of the paste comes naturally from the oil the hazelnut fruit is particularly rich in. This paste becomes a precious ingredient for ice creams, mousses and semifreddo's, lending these products the unmistakable touch of extra taste that only the hazelnut of the Alta Langa can give to confectionery specialties.
Our best hazelnuts, those with the largest calibre and beautifully whole.
We harvest them and leave them to dry naturally in the air and sun of the Alta Langa.
We gently toast them with warm air, then vacuum-pack them. So opening the bag becomes an action that will magically transport your senses into the hazelnut grove on the hills of the Alta Langa.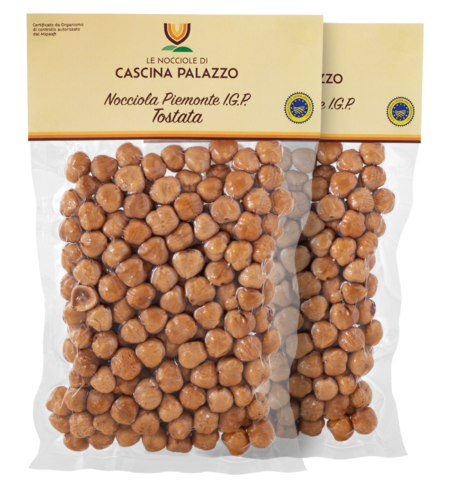 Our toasted hazelnuts, finely chopped. Each grain contains all the aroma and flavour of I.G.P. Piedmont hazelnuts of the Alta Langa, recognised by experts as the best in the world for use in confectionery.
And in fact, this grain is perfect for flavoring and decorating desserts, cakes and ice cream.
Our toasted and finely ground hazelnuts. Hazelnut flour is perfect for making cakes, tarts and biscuits, plumcakes and muffins. Some examples? Bacio di dama biscuits or the traditional, tasty hazelnut cake. The added advantage of this flour is that it is gluten-free, so it is also suitable for celiacs.